An Emotional Goodbye!!!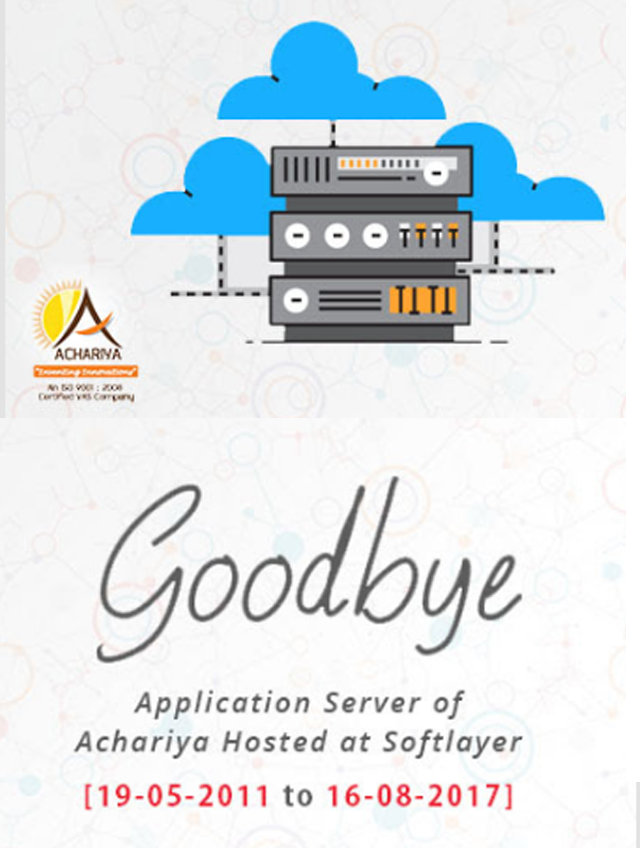 Hello,
I am one amongst the team members of Achariya who have been working for last 6 years 2 months, 29 days (19-05-2011 to 16-08-2017) as an Application Server at Softlayer (IBM) US Dallas Data Centre.
You might have noticed the pre-scheduled maintenance window called up by Achariya on 16-08-2017 & 30-08-2017 from 01.00 am to 06.30 am for 5hours and 30 minutes, it was one of lengthiest scheduled maintenance window that I saw at Achariya, this was to unload me from the core responsibilities of Achariya and now after dedicating 2282 days of my life to build and scale Achariya, it's time for me to retire from Achariya family.
During this tenure I have witnessed many challenges, success and failures of Achariya and I firmly stood with Achariya by extending all the support with which I can.
I remember, there were ofttimes where I had to confront cyber attacks that intended to destroy my team and me, hence in this emotional moment I would like to take this opportunity to thank Mr. Tinu & Mr. Sujith in particular; who supported me, took care of me from all these deadly hackers, tightened me from time to time, strengthened and inspired me to fight against all these attacks; which in turn helped me to discharge my duties with uttermost vigilance and in an efficacious modus. I also thank each and every teammate at Achariya for all the support that they provided to me through and through this journey of mine.
During my tenure of 197,164,800 seconds I haven't availed a SINGLE SECOND as leave except those scheduled leaves provided by the team Achariya for carrying out various unavoidable activities for scheduled maintenance.
I also wish to thank SoftLayer (IBM) Dallas, US Data Centre team for the unmatched support and care that I received through the whole of my tenure by keeping the temperature, network and power in a well balanced modus for my healthy survival. I also extent my sincere gratitude to Mr. Reji Sivankutty who has chosen and designated me as a team player and thanks to all my fellow servers who always worked tirelessly to build and scale up Achariya.
During my tenure I often noticed that the support team and customers of Achariya suffered due to the inefficiency or ineptitude of the teammates to scale up on certain circumstances, I sincerely apologize for the same as I am confident that my fellow members won't let you down.
I wish Achariya be blessed with success and be blessed with the ability to give life to 10,000+ servers like me in the forthcoming future.
Thanks & Regards
Application Server
Comments are currently closed.